What's New?
Other projects took over this month, but, the next pages I'm working to complete include a page on the Grand Lake Cemetery, a new page for genealogy clubs, and a page for showcasing the skills of sculptor Steve Dorian.
Featured Article
Sculptor for Hire, and a New Genealogy Club
I have long admired the artwork found in sculpture form in cemeteries. While most people opt for standard granite blocks, others long for a more elegant and distinctive piece of statuary.
Though I often wondered who created these works, I never guessed that I might get to know an artist who created wonderful, unique pieces that would be noticed in any cemetery. That's when I got an e-mail from Sculptor Steve Dorian.
Dorian studied sculpture at the Art Students League in New York, under Nathaniel Kaz and Jose De Creeft. From there, he worked that Memorial Granite in New York, carving headstones, and learning the basic skills needed to work in granite. The opportunities to expand his skills in granite were limited so he went to the famous Rock of Ages monument company in Vermont. There he worked with a sculptor from the world-renowned center of carving, Carrara, Italy.
This experience inspired him to go directly to the Carrara, were he worked at the Carlo Nicoli Studio for a year, eventually returning to Vermont, where he applied his skills to a relief portrait of President Ronald Reagan. The portrait still hangs at the marble company.
He returned to New York, and opened his own studio, where he worked for 22 years.
In 2006, he moved to Colorado, where he has been repairing local fountains in public spaces, (both City Park and Washington Park) and repairing private marble sculptures. He is looking for sculpting opportunities locally, and you can contact him at cavedemarmo@yahoo.com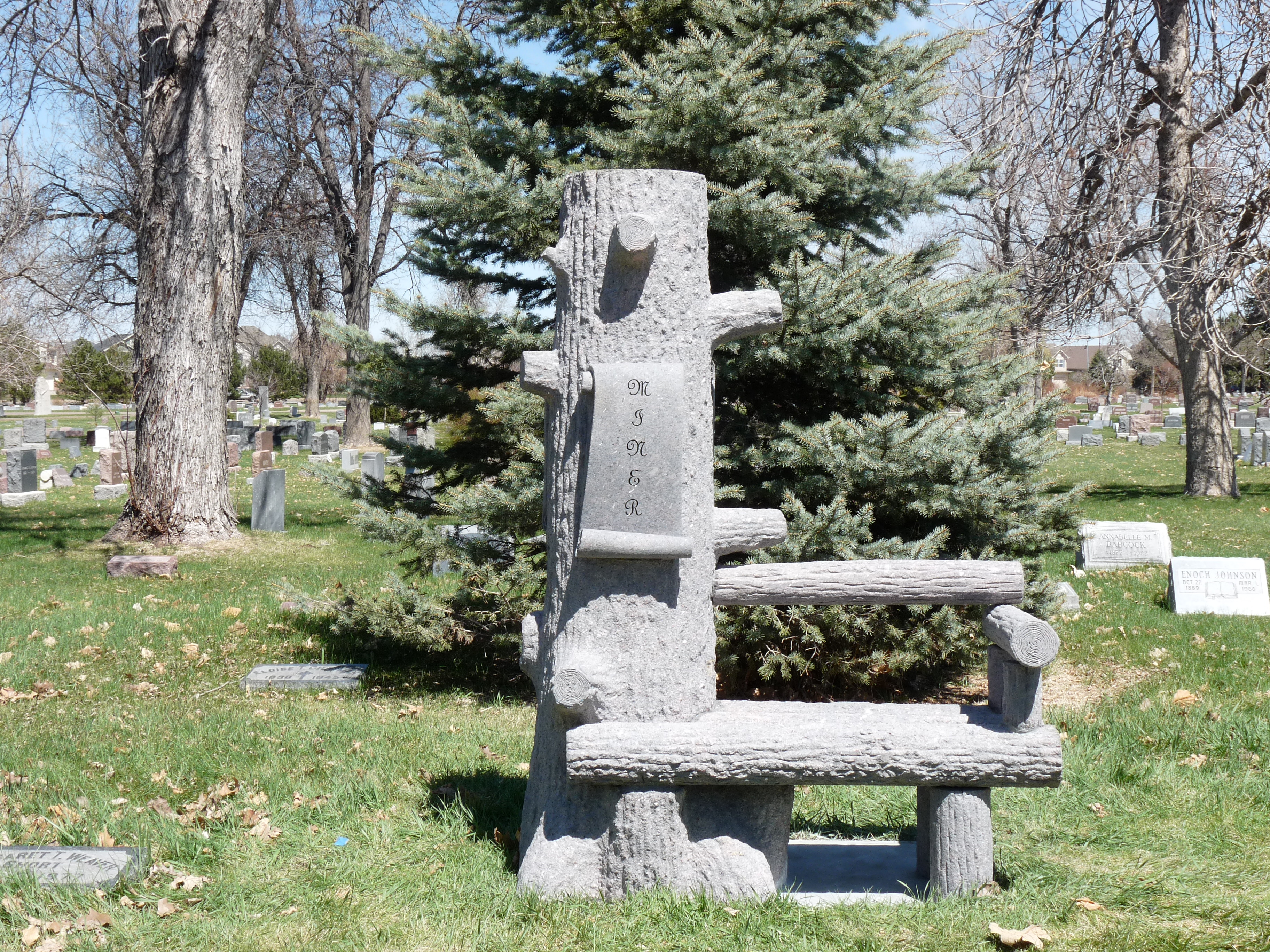 Bench sculpted by Steve Dorian.
New Genealogy Club in Adams County
If you're interested in Genealogy, and you live in Adams County, a new club has just gotten started. The officers have planned a full slate of presentations and events, and are producing a newsletter. Since I learned of this new club, I thought you, my gentle readers, might like a page listing the local clubs, so, I will be adding that soon. If you'd like to know more about this club, you can visit their website.
Around the Web
Recently, more dead trees at Riverside Cemetery were removed by volunteers from a Fort Collins lawn and tree company.
A company founded by a veteran, a construction business that worksto renovate cemeteries, among other endeavors.
Tips from a genealogy about visiting cemeteries.
A night tour of Barcelona's historic Montjuic cemetery. This is a video of the proceedings, for the 130th anniversary of this significant European cemetery.
The challenges of maintaining rural cemeteries are, as you might guess, not confined to Colorado.
Lovely pictures and tours of Imperial cemeteries in Beijing.
Near the pyramids of Dahshur in Egypt, the contemporary inhabitants are expanding their current burial grounds, endangering the ancient monuments.
Find us in Facebook!
More pictures! More discussion! More cemeteries! Introducing a new way to keep up with all the Colorado-Cemeteries.com news, and even talk about the site with other "fans."
Missed an Issue?
Don't fret! All the issues of Grave News can be found online at: http://www.colorado-cemeteries.com/Grave_News-backissues.html