Ralston Cemetery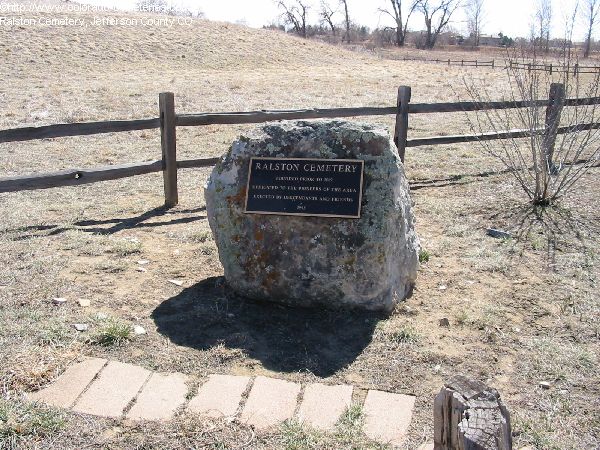 Address:
Ralston Cemetery (also known as "Osborn Hill Cemetery")
Hidden within a development in Arvada, the site is south and west of 64th Ave.
Directions:
Take 64th St. West to Gardenia St, (just past Eldridge St.) and turn south. The street will curve and start heading west again, and you'll want turn left (south) on Holman Street (not to be confused with Holman Court). Follow this to 62nd Avenue and turn left. The cemetery will be on your left after about one block. You will see it atop a small hill to the east.
Ralston Cemetery Fast Facts

GPS Coordinates:
UTM 13 S
486178 4406588
Elevation:
5568 ft
County:
Jefferson
First Burial:
1869
Number of Records:
16
Number of Missing Markers:
2+
Number of Broken Markers:
19 (four with signs of repairs)
Number of Irreparable Markers:
4
Overall Condition:
The Cemetery was taken over by the city of Arvada, and re-dedicated in 1996. Several markers in advanced stages of disrepair are set flat into the ground, right where they fell, with as many of the pieces as possible. There are walking paths, but, much of the vegetation is kept in its rustic state.
Date surveyed:
March 2009
This cemetery is one of the final remnants of a settlement known as Ralston Crossing. It was first used as a burial place for the three Osborn triplets, born on Oct. 2 in 1869. One of the triplets,
Ira
, died the same day, and was followed by his siblings over the next few days and months. Because of the Osborn burials, the cemetery was also known as "Osborn Hill."
The small section of land, only 2.8 acres, was set aside as a community burial grounds from that point forward. The settlement had a post office, blacksmith, school, and a stage stop.
The name "Ralston" came the man who first discovered gold in the creek now bearing his name, Lewis Ralston. Gold was found in June 1850. While gold mining was never a huge industry in area, it was the crossroads toward the rich minefields of Gilpin and Clear Creek counties.
Recently, a new website was set up by the newly appointed caretaker the cemetery, Matthew Prythero. If you have questions or comments about Ralston Cemetery, he would be a good resource.