Lakeview Cemetery, Broomfield Colorado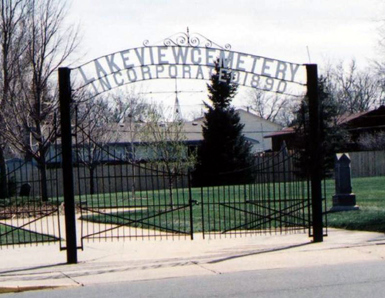 Address:
E 10th Av and Beryl Street
Broomfield CO, 80020
Contact: Nancy Harrold 303-460-6903

Directions:
Take CO 36 to 287, and go north. At Midway, turn right (east). Turn left at Main, heading north. Turn left on Eagle Way. The Cemetery is on the left.
Before there was a Broomfield, there was a railroad.
In 1873, the Colorado Central Railroad developed a line north from Golden. This line ran along where the south frontage road of U.S. 36 currently exists, and then swerved south toward Golden, just east of Wadsworth Blvd.
The area currently known as Broomfield grew from a railroad spur used to transport grain from the rural farm country, much of it owned by Adolph Zang, to the Zang Brewing company in Denver. The little line was know as "Zang's Spur." You can see remnant's of this "original" name in the form of "Zang's Spur Park," located to the west of Highway 287.
Zang came to the area in 1885, and eventually owned 4,000 acres of land where he bred horses, developed fruit orchards, and, according to some, raised turkeys. The Zang family owns a plot in Lakeview Cemetery, but no marker exists.
The name "Broomfield" is a reference to the city's rural past, where fields of "broom straw" grew as far as the eye could see. Lakeview Cemetery was incorporated in 1890, is located on Eagle Way across from Broomfield High School. It is owned and operated by the City and County of Broomfield, and is a working cemetery.
The farmland area became a community when, in 1898, the area residents formed the Cresent Grange. This led to such signs of settlement as postal service and commerce development, as well as social gatherings and events.
The area began its first major growth spurt in the 1950s when the Boulder turnpike (highway 36) was being built. The city of Broomfield was incorporated in 1961.
Most of the graves in the cemetery are unmarked. The largest number of markers is in the central in-ground columbarium/vault. When the city opened the new Broomfield Commons Cemetery, Lakeview Cemetery was limited to accepting only cremains.
The earliest marker is from 1889.
Lakeview Cemetery Fast Facts
GPS Coordinates:
UTM 13
493708 4419857
County:
Broomfield
Number of Records:
172 (281*)
Size:
1.43 acres
Number of Missing Markers:
2
Number of Broken Markers:
2
Number of Irreparable Markers:
1
Overall Condition:
Fences are in excellent repair, grounds are neat and tidy. This cemetery is very well maintained.
Date surveyed:
April 19, 2008
*Excluded from the listing below are the reserved slots for people without death dates, assuming that they are still living.
Note: Broomfield only became a county in 2001, so "county" records prior to that date are from the parts of the four original counties (Adams, Boulder, Jefferson and Weld). If you are looking for family records prior to 2001, you'll need to know the original county.
In 2003, a new cemetery, Broomfield County Commons, was opened. Eventually, the cemetery will be 10 acres, but currently, only 3 acres of the site are completed. The cemetery is also maintained by the City and County of Broomfield.
Download map of Lakeview Cemetery
Visit Lakeview Cemetery, with photos.
All GPS Coordinates UTM 13
Last Name
First Name
Birth Date
Death Date
Map Point
GPS
Abel
Donna May
3 Sept 1931
12 Jan 2008
29
493702
4419795
Adams
Harold E
5 Jan 1914
8 Dec 1996
45
493721
4419826
Adams
Elma Q
23 Jul 1909
6 Nov 1996
45
493721
4419826
Anderson
68
493733
4419802


Stone only

Albin
Claire
18 Dec 1917
24 Oct 1998
43
493721
4419823
Anni
Elizabeth
28 Apr 1879
13 May 1976
37
493720
4419824
Arnold
Carol L.
25 Feb 1943
25 Jul 1999
25
493720
4419828
Babcock
Jane
1848
1913
11
493702
4419795
Bailey
Earl J.
1922
2002
47
493722
4419822
Bales
Justin Lee
1 Apr 1975
19 Jun 1999
54
493723
4419826
Barth
Bruno
1917
1995
45
493721
4419826
Barth
Herta
1920
1995
45
493721
4419826
Baskerville
Emma Elizabeth
4 Nov 1923
3 Feb 2002
36
493720
4419823
Beck
Bryan J
10 Apr 1965
19 Jan 2005
38
493720
4419826
Berges
Walter E
1914
1916
71
493743
4419812
Berges
Lillie Brengartner
1889
1921
70
493740
4419810
Berges
Fred D.
1880
1 Aug 1954
69
493740
4419812
Berry
Norman
31 May 1934
2 Dec 2001
43
493721
4419823
Berry
Ruth
15 Feb 1935
6 Sep 2006
43
493721
4419823
Bigler
Jack
9 Mar 1988
26 Jun 2003
48
493722
4419822
Birch
Millie
28 Nov 1909
9 mo
76
493774
4419821
Botteron
Lawrence U
5 Feb 1932
8 Oct 2003
29
493702
4419795
Brengartner
Anne Mitze
1867
1891
65
493730
4419810
Brengartner
Henry
1861
1933
72
493749
4419812
Brennan
John S
27 Apr 1934
27 Jun 2002
37
493720
4419824
Brown
A. Murray
1913
2004
24
493708
4419824
Brown
Harry
26 Jul 1868
23 Jan 1938
7
493691
4419825
Brown
E.J. Trey III
9 Aug 1979
18 May 2002
42
493720
4419824
Brown
Jennie M.
28 Oct 1871
12 Nov 1901
8
493691
4419820
Bruner
Joan L
1931
1995
55
493723
4419828
Bunch
Dorothy M.
1924
1990
30
493720
4419828
Burt
Betty F
5 May 1917
29 Jul 2005
22
493708
4419824
Butani
Ruth Holland
13 Oct 1922
27 Jan 1999
33
493720
4419823
Calkins
David M
10 Feb 1822
12 Mar 1898
15
493696
4419806
Caputa
Bonnielu L
4 Oct 1941
18 Jan 2004
28
493718
4419820
Carr
Barbara
2 Jul 1927
7 Apr 2003
47
493722
4419822
Colman
Ralph W
1866
1934
63
493729
4419823
Colman
Alice
1877
1949
63
493729
4419823
Colman
Watson Edwin
19 Apr 1837
24 Aug 1911
62
493727
4419825
Colman
Helen Isabel
22 Dec 1865
11 Mar 1891
61
493722
4419822
Conquest
James A
1907
2000
22
493708
4419824
Coak
Josephine B.
1891
1912
1
493675
4419848
Cook
John
1840
1915
2
493675
4419847
Cozad
Betty Lee
1930
1996
46
493721
4419827
Craig
K.E.
25 Jan 1988
8 May 2003
29
493702
294419795
Crawford
Elizabeth
1836
1906
60
493728
4419832
Crawford
King
1836
1911
60
493728
4419832
Day
William W (Bill)
1937
1995
54
493723
4419826
DeLone
Darlene Y
13 Apr 1948
29 Jul 2002
41
493721
4419825
Dunn
William L
1932
1995
33
493720
4419823
Eisele
Nancy (Pat)
19 Apr 1928
23 Mar 2002
44
493720
4419824
Enisz
Fredrick
24 Feb 1917
23 Jan 2002
42
493720
4419824
Enisz
Maria
4 Apr 1921
23 Jan 2007
42
493720
4419824
Erickson
Richard H.
1946
1997
35
493720
4419822
Essex
Robert W
2 Nov 1919
18 Feb 2006
36
493720
4419823
Ford
Robert A. "Bob"
16 May 1933
10 Jul 2005
48
493722
4419822
Forrey
Jeane E
3 Jun 1926
3 Aug 1997
53
493723
4419827
Gibbins
J.C.
1911
1993
22
493708
4419824
Gibbins
Lorita A
1916
2002
22
493708
4419824
Graham
Norma Gene
15 Feb 1926
17 Jul 2005
39
493720
4419824
Hammond
Hazel D
1905
1993
47
493722
4419822
Harms
Walter B
5 Mar 1930
2 Jul 1999
35
493720
4419822
Hartman
John (Jay)
1927
1999
24
493708
4419824
Hayden
CE "Scott"
1928
1997
53
493723
4419827
Hazen
Patricia Ann
1924
1996
48
493722
4419822
Hecht
Baby Asher
28 May 2000
28 May 2000
51
493723
4419822
Hein
Marcella A.
18 Jul 1908
11 Nov 2005
43
493721
4419823
Hengeveld
Holly BA
25 Dec 1966
12 Dec 1997
33
493720
4419823
Henry
Warren
1851
1898
6
493687
4419831
Henry
Frances
1842
1902
5
493685
4419821
Henry
Smith
1838
1907
4
493683
4419834
Henry
F.R.
1875
1912
9
493702
4419823
Henry
E.W.
1888
1945
8
493702
4419844
Henry
John Milton
1915
1997
53
493723
4419827
Henry
Mary Louise
1921
1998
53
493723
4419827
Herring
Warren E
2 Nov 1921
5 Jan 2000
43
493721
4419823
Herring
Ruth E
7 Apr 1924
5 Jan 2000
43
493721
4419823
Hoyle
IK (Ken)
1917
1997
57
493721
4419825
Hulsizer
William E
24 Jun 1944
20 Sept 1999
34
493720
4419824
Jackson
Evelyn
21 Aug 1928
20 Jan 2006
39
493720
4419824
James
David C
1926
2002
58
493723
4419829
Kanost
Donald R
25 Oct 1930
14 Jul 2004
36
493720
4419823
Kemper
Mary Elizabeth
1915
2001
46
493721
4419827
Kingsley
Charles AF
13 Mar 1934
8 Aug 2002
43
493721
4419823
Kinsey
Frank E
31 Mar 1977
1 Jan 1998
41
493721
4419825
Kozisek
Robert James
11 Jan 1925
10 Dec 2003
57
493721
4419825
Kriis
Saime
31 Jul 1914
13 Mar 2002
37
493720
4419824
Lewallen
Virginia I
1913
1996
45
493721
4419826
Lewallen
Vinton B
1915
1999
45
493721
4419826
Lewis
Lowell L
1921
1993
56
493720
4419825
Lloyd
Elizabeth M
4 Jul 1906
19 Apr 2003
35
493720
4419822
Lovejoy
Charles J
14 Jun 1936
7 Aug 2001
47
493722
4419822
Machmuller
Elizabeth Anne
1961
1993
46
493721
4419827
Madsen
William B
1924
2000
34
493720
4419824
Madsen
Dorothy A
1926
2007
34
493720
4419824
Marchi
Frank J
1943
1997
52
493722
4419825
Martinez
Suzy
18 May 1954
28 Nov 1998
52
493722
4419825
Martz
Winifred M.
1911
1999
20
493685
4419821
Martz
Rev. Lloyd E
1907
2002
20
493685
4419821
Mayer
Ted R.
1925
1999
24
493708
4419824
Mayer
Phillip K
28 Jul 1947
10 Jan 2002
37
493720
4419824
Maypole
Lorraine
20 May 1925
27 Sept 2006
40
493721
4419823
McKinley
Melvin James
1828
2004
19
493706
4419824
McNeill
Diana Lynn
3 Sep 1946
18 Jul 2000
51
493723
4419822
Mitze
Margarethe Helm
1833
1903
65
493730
4419810
Mitze
Daniel
1840
1925
65
493730
4419810
Molholm
Edna Wilcox
1896
1919
75
493760
4419849
Molholm
Peter C
1858
1924
75
493760
4419849
Molholm
Louise
1871
1952
75
493760
4419849
Molholm
Delmar E
19 Nov 1905
22 Jan 2007
74
493757
4419849
Montz
Patricia L
1938
23 Jul 2002
44
493720
4419824
Morse
John Henry
19 Jan 1841
31 Mar 1912
64
493729
4419819
Morse
Sarah H
22 Oct 1837
30 Aug 1889
64
493729
4419819
Mosher
Glen E
1904
1991
19
493706
4419824
Mosher
Katheryn E
1910
1996
19
493706
4419824
Naugle
D. Colleen
22 Jan 1933
18 Feb 1989
34
493720
4419824
Nies
Father
1855
1906
67
493734
4419810
Nies
Mother
1860
1907
67
493734
4419810
Ofenloch
Martha Marie
1931
1992
55
493723
4419828
Oldaker
Margaret E.
1927
1997
21
493708
4419824
Peterson
Cindy Ann
23 Feb 1957
14 Feb 2001
27
493703
4419821
Peterson
Robert
3 May 1928
1 Jan 2003
27
493703
4419821
Peterson
Lois A.
20 Jul 1924
27 Mar 1998
25
493720
4419828
Pierce
Hattie P
1866
1908
17
493702
4419795
Pierce
H.E.
1891
1910
16
493702
4419795
Platt
Joyce M
3 Nov 1947
16 Aug 2000
42
493720
4419824
Ralston
Luisa Erika
1915
1997
46
493721
4419827
Reed
Peggy E
1934
2003
58
493723
4419829
Reeves
Shirley Marie
1931
1989
54
493723
4419826
Retallck
Celeste
7 Jan 1920
17 May 2002
26
493709
4419823
Retallck
George W
31 Jul 1917
24 Feb 2001
26
493709
4419823
Rushing
Robert P
10 Sept 1949
22 Dec 2001
42
493720
4419824
Rutledge
W.H.
1872
1940
10
493691
4419829
Ryan
Annette E
16 Apr 1997
17 Apr 1997
25
493720
4419828


Sauer
Eldon C.
1919
2002
22
493708
4419824
Saunders
Ruby M
23 Oct 1929
28 Nov 2007
27
493703
4419821
Severns
D.R. (Doc)
1921
1999
30
493720
4419828
Simons
James C
1925
1997
52
493722
4419825
Smith
Linda D
29 Apr 1948
1 Jan 2006
29
493702
4419795
Spahn
Jake F.
19 Oct 1990
6 Feb 2006
39
493720
4419824
Stafford
Mable C
7 Aug 1907
15 Sept 1983
26
493709
4419823
Steele
Richard Speaker
1930
1991
32
493722
4419826
Stratton
George F. Jr.
1949
1994
46
493721
4419827
Sullivan
William
1911
1996
33
493720
4419823
Sullivan
Helen J.
1919
2007
33
493720
4419823
Swenson
Charles E.
1930
1990
30
493720
4419828
Taylor
Iris Maxine
1918
1992
55
493723
4419828
Taylor
George Ray
1918
1993
42
493720
4419824
Taylor
Hazel L
1926
1995
32
493722
4419826
Taylor
Harold B
1920
2004
32
493722
4419826
Taylor
Barbara A
1923
2007
42
493720
4419824
Taylor
Joe Grant
1905
1993
55
493723
4419828
Thompson
Vern H.
1927
1994
22
493708
4419824
Tompkins
Lou
1925
1992
46
493721
4419827
Tompkins
Pete
1924
2003
46
493721
4419827
Tucker
Gordon P
12 Mar 1893
22 Jan 1894
59
493725
4419846
Tuttle
Glenn J.
1921
1996
33
493720
4419823
Tuttle
Brad
15 Jul 1982
3 Mar 2000
35
493720
4419822
Tuttle
Garreth G. II
19 Oct 1990
14 Dec 1997
33
493720
4419823
Uttecht
Lary D.
1959
2001
47
493722
4419822
Uttecht
Kenneth W
1927
2005
47
493722
4419822
Webster
Rex
22 Nov 1971
8 Nov 1999
27
493703
4419821
Welsh
John W "Bill"
23 May 1931
18 May 2002
48
493722
4419822
Wereschnikow
Wasil
31 Dec 1918
18 Apr 2000
26
493709
4419823
Wilkerson
C. Kimberly
5 Apr 1956
25 Apr 1999
44
493720
4419824
Williams
Mary E.
1839
1898
3
493684
4419846
Williams
Warren E
1934
1995
54
493723
4419826
Williams
Charlene
1927
1995
21
493708
4419824
Wright
Mary
7 May 1881
18 Aug 1899
13
493702
4419844
Wyant
Abraham F
1836
1914
12
493691
4419825
Ziemek
Priscilla
11 Oct 1913
2 Aug 2005
51
493723
4419822
Ziemek
Roman
25 Sept 1914
14 October 2001
51
493723
4419822
Our Baby
25 May 1907
27 May 1907
14
493702
4419823
Return to Cemetery Records from Lakeview Cemetery, Broomfield, CO