Pauper Cemetery, El Paso County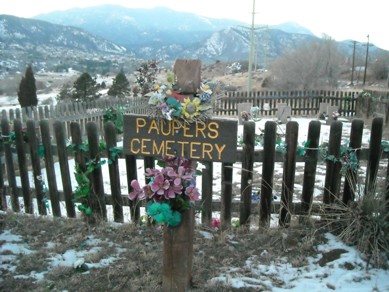 Address: Pauper's Cemetery
The southeast corner of Lower Gold camp Road and 21st Street
It is not an active burial site, and the plot is maintained by the El Paso County parks department.
Directions:
Take I-25 to Colorado Springs. Exit on Unita Street, and go west on Uintah. Turn left (south) on 21st street. The small burial site is on the right (southest) corner of 21st Street and Lower Gold Camp Road.
Pauper's Cemetery Fast Facts

GPS Coordinates:
38 39 40N
104 51 34W
Elevation:
6630 ft
County:
El Paso
Number of Records:
0
Number of Missing Markers:
0
Number of Broken Markers:
0
Number of Irreparable Markers:
0
Overall Condition:
The fences are in good repair, and the cemetery is well tended.
Date surveyed:
December 2009
In 1957, when construction on a new road began, seven graves were found. The land had once been part of a poor farm, which had also had a hospital. The hospital burned down in January of 1900, and the records were lost in the fire, and the graves were unmarked. According to El Paso County, anyone who died of smallpox in the county was buried in that plot of land.
These seven graves were moved a short distance to the southwest corner of Lower Gold Camp Road and 21st Street. Today, the graves are marked by blank headstones, and are maintained for by the El Paso County parks department. The plot of land is fenced in, and there is a sign, as seen in the picture. The sign is visible from 21st Street.
The small site is on the edge of Bear Creek Regional Park, and there is a place to park off the shoulder of the road.
The markers are concentrated on the west side of the fenced in area. The markers are made of concrete, and some have crosses inscribed on them.
One of the unmarked graves might belong to Henry Parks, who lived on the farm until November of 1900, when he died after an epileptic seizure at the age of 46.
From the picture, it is easy to see that locals visit the site and place tokens on the markers, and artificial flowers on the sign. It is good to know that despite the fact that their names have been lost to history, have quiet resting places that are respected.
Source: http://files.usgwarchives.org/co/elpaso/cemeteries/colosprings/paupers.txt
Links

Pauper Cemetery Transcript is not possible, as all graves are unknown.
Map
Gallery Map
Photos
Return to Cemetery main page