Wesley Chapel Cemetery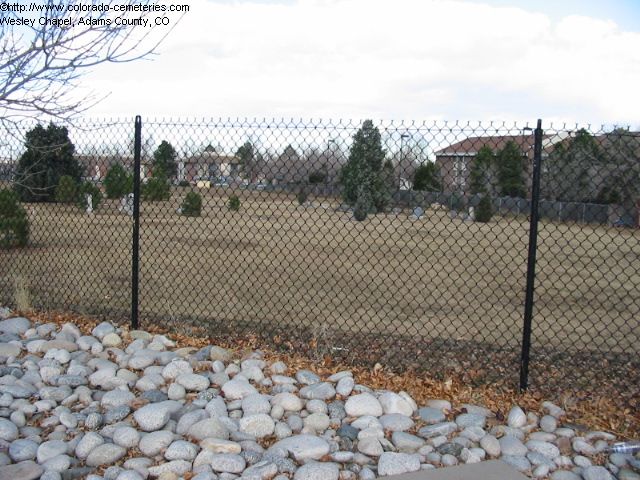 Address:
Wesley Chapel Cemetery
120th and Huron
Cemetery is not active, but is maintained by the Wesley Methodist Cemetery Association
Directions:
Take I-25 to 120th Ave. Go west on 120th to Huron. Cemetery is on the Northeast corner.
Wesley Chapel Cemetery Fast Facts

GPS Coordinates:
UTM 13 S
500318 4418288
Elevation:
5341 ft
County:
Adams
Number of Records:
Number of Missing Markers:
?
Number of Broken Markers:
2 (one repaired)
Number of Irreparable Markers:
0
Overall Condition:
Fences are in good repair. The cemetery is well maintained.
Date surveyed:
November 2008
This small cemetery was founded in 1889. As you might guess from the name, there was once a chapel on the grounds, but no trace of the structure remains. The property was deeded to the Wesley Methodist Cemetery Association by the Moxley family for use as a burial ground, and the Moxley family plot is on the east side of the grounds.
According to research by Adams County researchers Peggy Humann, Nancy Leigh, and Marcia Wood, the chapel, with its 6 stained glass windows, moved to Broomfield in the 1930s.
The graves are concentrated near the south end of the property, however, no markers are present in the southern-most quarter of the lot.
The Hutchinson family plot is marked by an iron fence, and it is on the eastern side of the cemetery. Clara Hutchinson Johnson was the last burial in the plot, as well as the cemetery. Her death was in 1967.
The finest marker in the cemetery belongs to Jacob Frey. It's a lovely, large granite cross. It is finely carved, and looks crisp and new, despite being 100 years old. The inscription, in German, gives a hint to this pioneer's heritage.
Access to the cemetery is on the north end. The cemetery is well maintained, and though some vandalism has occurred, most of the markers are intact, and in good condition. Some markers are homemade, and can be difficult to read.