Zinkers of the Week July 2013
Week of July 29, 2013
This unique statue is located at Mt. Olivet Cemetery in Wheatridge. The zinc marker is mounted on a cement plinth.
You might notice the split in the top of the statue's head, where a crack has appeared. This looks to be a result of normal aging, not vandalism.
The marker is for Mary Hogan, who died April 3, 1894.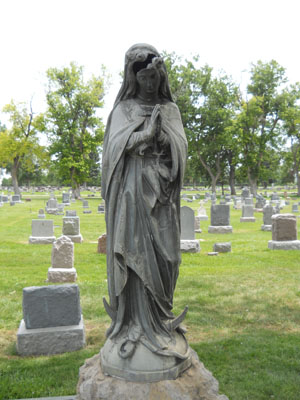 Week of July 22, 2013
This fine marker is located in small, rural Spring Valley Cemetery in Douglas County. It was erected to the memory of Harrison Bucks, who died in January of 1900. The monument was set in place by his children.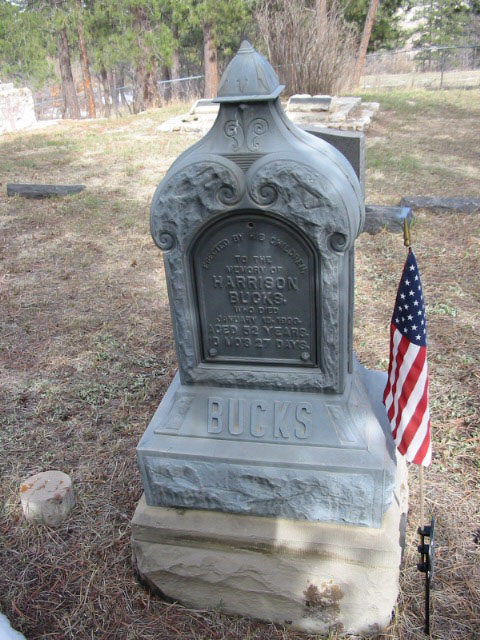 Week of July 15, 2013
A double tablet-like monument for the Puckett brothers. One died in 1886 at the age of three. The other died in 1888, only 7 months old. This marker can be found on the east side of Block 1 in Fairmount Cemetery.
On the back of each half is a relief of a lamb.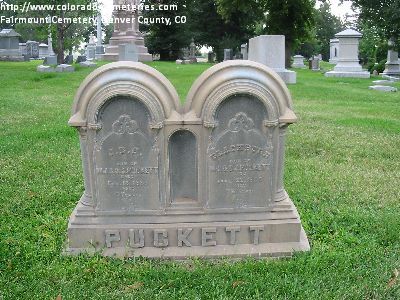 Week of July 8, 2013
A sculpture of a young shepherd carrying a lamb is this week's highlighted marker from
Riverside Cemetery, Denver's Pioneer Cemetery
This cemetery has the world's best collection of these markers.
Lambs are a very common marker for the graves of children in the Victorian era, symbolizing the purity of an innocent soul. In this case, the lamb is being cared for by an eternal shepherd.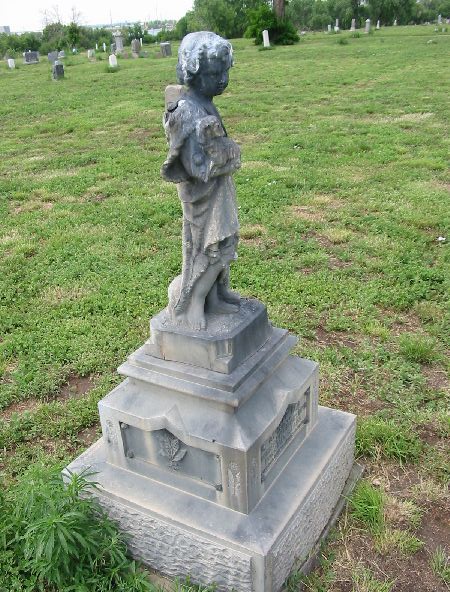 Week of July 1, 2013
This week's marker is a lovely obelisk in the
Masonic Cemetery in Central City.
The marker is a wonderful example of markers made out of zinc. You can see the acorn-like screws holding the nameplate to the base of the marker.
One of the customized elements of this marker is the addition of the service unit that Mr. Josselyn served with, right under the decoration of a military-style medal. The "draped" curtain design above the medal, that extends outside of the main body of the obelisk, is a distinctive feature often seen on the military-style markers. Often, an ornament, such as a bird, would sit on the top of the obelisk, but, this one did not.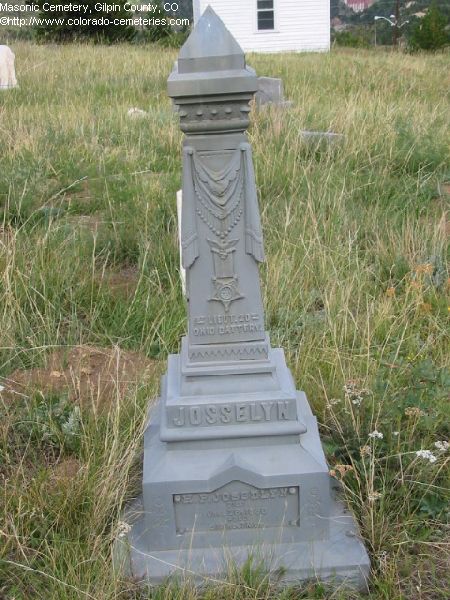 H P Josselyn
- 28 Jan 1888
Marker Type: Obelisk
Material: Zinc
1st Lt. 20th Ohio battery
HP Josselyn died Jan 28 1888
Aged 51 yrs 7 mos
Our dear father at rest

Your first paragraph ...